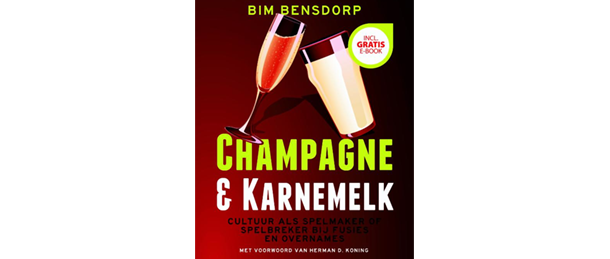 Succes en faalfactoren bij internationale fusies en overnamen
Volgens het blad Management Team is het boek van 'Champagne en Karnemelk, succes- en faalfactoren bij internationale fusies en overnamen' van Bim Bensdorp een echte aanrader en volgens ons natuurlijk ook! Aan de hand van de praktijkcases KLM/Air-France en Hoogovens/Corus krijgt de lezer een goed inzicht in de rol van cultuur bij het welslagen of mislukken van internationale fusies en overnamen.  Enkele belangrijke conclusies:
De helft tot driekwart van de fusies mislukt. Waarom? Vaak blijkt het gewoon niet te klikken.
De factor Cultuur is meestal de spelbreker. Het is verwonderlijk dat deze factor het minst goed wordt onderzocht.
Hoewel leidinggevenden erkennen dat de zogenaamde 'intangibles', de zacht factoren, een grote rol spelen in het welslagen van een fusie, handelen zij daar vaak niet naar in het heetst van de strijd
Cultuuronderzoek is bij complexe fusies van grote waarde. Het helpt de factor cultuur op de agenda te houden, het nodigt uit tot dialoog, het maakt de ontwikkeling van een gemeenschappelijke taal mogelijk en het geeft richting aan het integratieproces.
Het is bij een fusie niet altijd mogelijk om 'the best of both worlds' samen te voegen, zoals het ook niet raadzaam is om vanaf de kansel een geheel nieuwe cultuur te verordonneren.
Kortom: een zeer toegankelijk en lezenswaardig boek voor managers die op dit moment of in de toekomst te maken hebben met nieuwe buitenlandse partners of collega's. Bestelinfo.