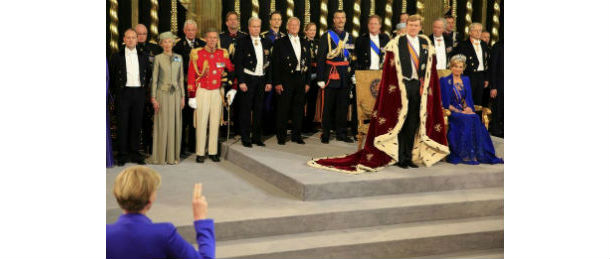 Royal Dutch Treat
What were the foreign guests in the Nieuwe Kerk Church in Amsterdam thinking while attending the inauguration ceremony of King Willem Alexander? They had all the time in the world for reflection since the ceremony was held in Dutch, obviously. Their eyes may have wandered off to watch the beautiful orange flower arrangements that decorated the church pillars. They must have been moved by the sight of now Princess Beatrix and her three granddaughters, all dressed in blue. And of course, the ultimate eye catchers were the newly appointed King and his charming Queen Maxima who completed this perfect picture.
But Arabian sheiks or Japanese royals may have wondered who on earth all these people were in the front of the church, each and every one of them swearing an oath to the inviolability of the King? Their information booklet probably explained that these people were parliamentarians and representatives of all three parliaments of the Kingdom of The Netherlands. But they probably kept wondering why the Dutch couldn't just appoint the most senior in rank to do this on behalf of the whole group? Why would the King stand there for half an hour in his heavy robe to hear the same line over and over again by people lower in rank?
This, your excellencies, is an ultimate expression of Dutch values such as equality and individual responsibility.  The monarchy is subservient to democratic procedures and for this reason the King was inaugurated in an extraordinary parliamentary assembly. The monarchy also symbolizes national unity. It may seem contradictory but it is because of the fragmentation of interests and opinions in Dutch society and politics that the House of Orange to this day has such a binding function. The Royal Family reaches out to all Dutch citizens and local communities. Having said that, the Dutch don't accept too much show-off and ascribed status. Former Queen Beatrix was praised for her work ethics, dedication and servant leadership. But she also had to account for her budget and spending. After all, everybody deserves a Dutch treat.